Yes, I know that it is almost June, but life got kinda busy.
In the month of May, I read a total of ten books, 5 audiobooks, 4 ebooks and one solitary paperback novel. For the first time, in a long while, I read an even mix of male and female authors — five of those authors were new to me.
I think I have finally come to accept that readathons which depend heavily on challenges are just not for me. I planned to participate in the Scallywag-A-Thon, which is this awesome pirate themed readathon — there is a cool map and everything. I don't think I read a single book from my TBR. I'm too much of a mood reader.
I've done full reviews of Phi Alpha Pi and Playing Hurt. 
Two books this month reduced me to tears. The truly sad thing is, I knew this was going to happen and still thought it was a great idea to listen to them on audiobook at work. *Shakes head at self*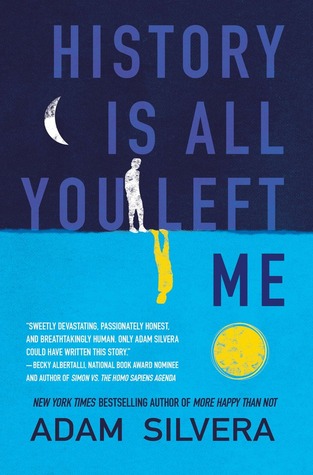 History is All You Left Me by Adam Silvera
This is the third Adam Silvera book I have read, they have all reduced me to ugly tears at some point. In History is All You Left Me we follow Griffin who is mourning the loss of his ex-boyfriend, Theo,  who was away at college. To make matters worse, Theo's new boyfriend, Jackson, is in town for the funeral and keeps reaching out. Eventually, the two boys form an uneasy friendship to help each other cope with grief.
The story is told as a one-sided conversation Griffin is having with Theo (after his death), Griffin reminisces about their relationship and what happened after Theo left for school. We slowly start finding out what happened on the beach, the day Theo died.
As always, Silvera's writing is awesome and engaging. The characters felt very real. I didn't like Theo though. He did not treat either of his boyfriends very well. I did not appreciate how dismissive he was of Griffin's mental illness (he suffers from OCD) or how he basically led both Griffin and Jackson on. Still a great read. The audiobook was very well done.
The Song of Achilles by Madeline Miller
This is a retelling of The Illiad, in particular, the story of Achilles. We all know how that turned out.  Achilles is not my favourite Greek legend. As a figure, I find him to be arrogant and self-serving. What makes this book is the point of view, Patroclus is Achilles' confident, companion and lover. Through his eyes, we see the legendary Achilles by a person who recognizes his flaws but loves him anyway.
Patroclus is not a prince (he was exiled from his kingdom) and he is definitely not a warrior. He is in the middle of the Trojan War and seeing it through non-soldier eyes. It makes it very human. We see Achilles struggling with the civilian casualties of war. Patroclus makes Achilles a better person by forcing him to acknowledge his human side. The love story between these two is heartbreaking … and the ending…OMG!
Miller is an amazing storyteller. I will definitely be picking up everything else she's ever written/writes.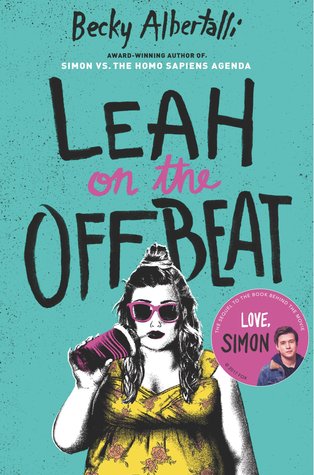 Leah on the Offbeat by Becky Albertalli
Sadly, this book was a bit of a disappointment for me. Not that it was a bad book. I went into this book with exceedingly high expectations — Simon vs. the Homo-Sapiens Agenda is one of my favourite books of all time. Tough act to follow, also Leah was not my favourite character in the first book either. This book just didn't have the same magic for me.
More specifically, I really didn't like what she did with one of the main characters. Also, some of Leah's behaviour was not cool and she never really got called on it.
That said, there were some absolutely awesome moments. The promposal! So cute! There are some great conversations between Leah and Bram. There were other bits too that I really loved –but won't share because they're spoilers. Becky Albertalli is a fabulous writer, this book just wasn't my favourite.
I cannot wait for What If It's Us by Becky Albertalli and Adam Silvera which is due out in October 2018.
There is a brief overview of what I read in May. In a couple of weeks, we will do this all over again for June.
What did you read?
What are you currently reading?
Currently, I'm reading (and loving) The Poppy War by R. F. Kuang and Hounded by Kevin Hearne.