Monthly Recommendations is a GoodReads group where every month people are asked to recommend titles on a theme. June's theme was audiobooks. I know I'm a little late in putting this up, but June kinda got away from me.
First, a qualifier. I am one of those weird people who do not like full-cast audiobooks. I find them confusing.
A recent convert to the audiobook life, I feel I should mention the book that got me addicted. A friend suggested that I listen to either Neil Gaiman or Harry Potter. I chose Gaiman.
Neverwhere is one of my favourite books of all time and rediscovering it in audiobook was awesome. Neil Gaiman narrates all his own books and does an amazing job.
Let's take a minute to talk about narrators. A good narrator can make or break an audiobook. But, what makes a good narrator? For me, the voice has to match the character. This is particularly important when the book consists of a character telling us the story.
Two examples of this done well are:
The Bear and the Nightingale by Katherine Arden. The narrator, Kathleen Gati, takes you to Russia with her. You feel like you are there in this isolated farmhouse with Vasalisa. It is atmospheric and amazing, I cannot recommend this audiobook enough.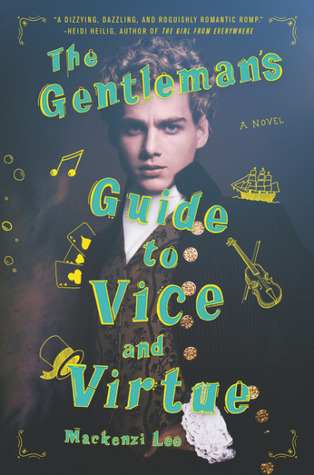 A Gentleman's Guide to Vice and Virtue by Mackenzi Lee is narrated by Christian Coulson. This book is hilarious! It actually had me laughing out loud (while sitting at my desk at work, which was awkward). We follow Monty, the son of a wealthy lord in the 17th century, he embarks on his grand tour of Europe with Percy, his best friend whom he's been in love with for years, and his sister, Felicity. Of course, grand hijinks ensue. Coulson is a very convincing Monty.
The next titles on this list are actually series. When a series of books are narrated by a single person it is almost like TV show characters being played by a set group of actors. You get used to the voices for the characters and the way they describe a scene. I know the words aren't theirs, but a good narrator definitely adds something of themselves to it.
The Alpha & Omega Series by Patricia Briggs
This urban fantasy series is narrated by Holter Graham. We follow werewolves, Charles and Anna Cornick, as they attempt to police the supernatural world. I recently did a full review of this series.
Enchanted Inc. Series by Shanna Swendson
Another urban fantasy series, this one much more on the lighthearted funny side. The series is narrated by Eva Wilhelm, she plays Katie Chandler a Texas transplant in New York City. Through a series of events, Katie discovers that she is a magical immune (ie magic does not work on her). She is then hired by a company which creates spells for magic users. There is romance, gargoyle security guards, her boss is Merlin (yes THAT Merlin). It is great fun! While Katie definitely has an accent, it is never overpowering.
So, there are a few of my favourite audiobooks. There are so many others that didn't quite make this list but are amazing as well.
Simon vs. The Homo-Sapiens Agenda by Becky Albertalli, narrated by Michael Crouch. 
Indexing Duology by Seanan McGuire, narrated by Mary Robinette Kowal. 
Heroes of Olympus Series by Rick Riordan, with various narrators.
Are you an audiobook listener? What are some of your favourites?