My plan — yes I had a plan — for the Smutathon readathon was to read seven romance books between July 9-15th. I read three.
It wasn't that reading seven romances in a week was an entirely unrealistic expectation. Even with working full time, I generally get through romances fairly quickly, also a bunch of the titles on my TBR were novellas. No, the blame for my lack of reading falls to the anime "Yuri On Ice". What started as watching a couple of episodes while I ate dinner turned into an obsession. This 12-episode long anime about men's figure skating is now one of my favourite shows of all time. In the last two weeks I have watched the entire series three times (certain parts more so) and now own the Blu-rays and the Funkos. It also set me off on an anime kick which continues.
That said, I did read three romances. One I was nervous going into but ended up really liking, one which was an okay start to a new series and one I actively disliked.
Let's start with the disappointment.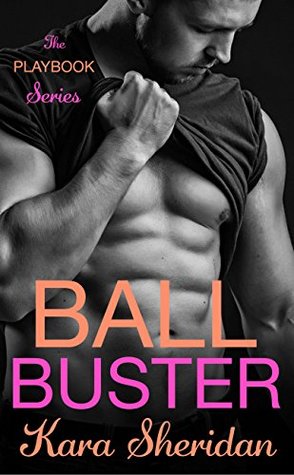 Ball Buster by Kara Sheridan
I received an eArc of this from Netgalley in exchange for an honest review. All opinions are my own. 
While I liked Sheridan's writing style and some of the side characters (Tamera and Leonard in particular), this book was not for me.
The story — Carson and Sadie dated in high school but broke up right before going their separate ways for college. Carson was a local football star and Sadie received a lot of hate for dumping him to pursue her own goals. Fast forward seven years, Carson is the quarterback of the local NFL team which hires Sadie's PR firm to clean up their social media image. It is clear from the beginning that these two are not over each other and sparks fly. A classic second-chance romance … one of my favourite tropes.
My main issue with this book was Sadie. I did not like her. I found her to be self-centred and manipulative. In a couple of instances, she uses Carson's personal feelings for her to forward her professional goals. I just could not get behind the romance. Neither Carson nor Sadie seems to listen to what the other says if it doesn't suit. The ending pissed me off.
Overall, I may try another book by the author, but this just was not my story.
Slave to Sensation by Nalini Singh
I'm a fan of Singh's other series — Guild Hunter Series — which is about a world filled with angels and vampires. This is the first book in her Psy-Changeling Series. In this world, there are the Psy who are the psychically powerful but emotionally dead ruling class and changelings of various forms.
We meet Sascha, an upper-level Psy with a secret, she actually feels emotions such as desire. A hard secret to keep when everyone can look inside your head. If people find out she will have her brain wiped. She is sent to liaison with the local changeling leader, Lucas, on a building project. From the beginning, both sides have ulterior motives. Sascha is supposed to be spying on the changelings for the Psy and Lucas is trying to use Sascha as a link to find out about a Psy who is torturing and killing women. What follows is a pretty typical paranormal type romance, with interesting characters and somewhat complex storylines. I could have done without the dream sex sequences. A friend gifted me the first 10 books in this series (she was moving) and I will definitely pick up the next instalment.
#Swag by Cambria Hebert
This is a contemporary romance set in the world of indie car racing.
I was wary about picking this book up. I loved the first two in this series, #Junkie and #Rev, and was interested in the fourth book, #Blur. I debated whether I really needed to read this book. I'm glad I did.
My point of concern was Lorhaven. I did not particularly care for his character in the first two books and was not sure I liked the idea of him and Joey (whom I did like). It worked though. You get two characters who feel they need to project a tough exterior but are really softer on the inside. Don't get me wrong, Lorhaven is still an asshole. But, by the end, he's a somewhat lovable one.
Since Joey is best friends with Drew and Trent from the first two books, we got a lot of them as well. Trent giving romantic advice and then being super protective is adorable.
The next book follows Lorhaven's brother, Arrow, and I think Joey's former manager in a forbidden romance. I can't wait!
Overall I consider Smutathon a success. Could I have read more? Definitely! However, I liked a majority of what I read. I will definitely be playing next round.
Smutathon was created by Lainey from GingerReadsLainey and Riley from RileyMarie.