As I was getting ready to write my October wrap-up, I realized I never wrote one for September. Relatively speaking I did not do a lot of reading these past two months — and I've written full reviews for a lot of what I did read.
So, instead of boring you all with long-winded wrap-ups for September and October, rehashing material you've likely already read, I'm going to condense it. There are still a few books I want to talk about.
In September, I read nine books for a total of 2202 pages — 3 manga, 2 graphic novels, a collection of short stories, a novella, a fantasy novel, and a historical romantic suspense.
Titles include:
Spinning Silver by Naomi Novik
Fake Vol. #1-3 by Sanami Matoh
Toil & Trouble: 15 Tales of Women and Witchcraft edited by Jessica Spotswood and Tessa Sharpe
Chimera, Book 1, The Righteous and the Lost by Tyler Ellis
Check, Please! Vol. 1 #Hockey by Ngozi Ukazu
A World in Blue by Danni Maxwell
An Unseen Attraction by K. J. Charles (Sins of the Cities Trilogy #1)
I planned to participate in the Tome Infinity and Beyond Readathon. I failed miserably! Reading slumps are real people! In the end, I only read one book — the collection of short stories.
There is a full review of both Toil & Trouble and Chimera up on this blog, so please follow these links for my thoughts on them.
Spinning Silver by Naomi Novik
Sadly, this book was a bit of a letdown. I had been eagerly awaiting Spinning Silver since I heard about it. Naomi Novik, the author of Uprooted, taking on Rumplestiltskin — one of my favourite fairytales. While I liked it, I didn't love it the way I was hoping to.
Spinning Silver is a feminist retelling of Rumplestiltskin with elements of Frost Giants and Jewish culture mixed in. I liked these elements. We primarily follow three women, Miryem, Wanda and Irina, all from and in very different situations. I enjoyed how this book explored different definitions of strength and female empowerment (in a time when women had little to no rights). I loved many of the characters and their relationships, particularly Irina's relationship with her nurse and Wanda's with her two brothers.
I think this story had some issues structurally. The pacing was a bit erratic and there were too many points of view. Many moments were seen through multiple sets of eyes. This can be interesting, and sometimes was, but is often unnecessary.
Overall, I gave this book 3.5 out of 5 stars. Would I recommend picking it up? Yes, but personally I preferred Uprooted.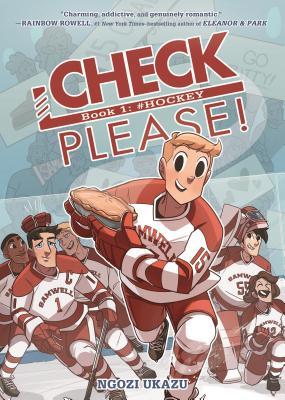 Check, Please! Book 1: #Hockey by Ngozi Ukazu
OMG! This was adorable!! If you are looking for a book to hit you in the warm and fuzzies … look no further. Originally published as a webcomic this is the first compendium (the second is due out sometime next year and I am SO excited).
We follow Bitty (AKA Eric Bittle) in his first two years at university. He is a vlogger, baker and hockey player. Though it is not stated until the end of the story, he is also gay. He worms his way into the heart of everyone he meets. There are a wonderful found family and a hint of romance.
Check, Please! had me laughing out loud in parts, and wiping at tears in others. It's heartwarming and lovely and I want more.
Now we move into October …
In October, I read a total of eight books equalling only 1744 pages. This is my slowest reading month yet. I had company staying with me for a couple of weeks this month, and then I started two 600-page fantasies which I didn't finish until November. Back to October, I read 4 volumes of manga, 1 urban fantasy novella/short story, 2 historical romantic suspense novels, and 1 science fiction.
Books I read:
Unnatural Vice by K. Charles (Sins of the Cities Trilogy #2)
Fake Vol. #4-7 by Sanami Matoh
Unsuitable Heir by K. Charles (Sins of the Cities Trilogy #3)
Alliance by S. K. Dunstall (Linesman Trilogy #2)
The Land I Lost by Cassandra Clare (Ghosts of the Shadow Market #7)
I did full series reviews for both The Sins of the Cities Trilogy and Fake Series so I won't repeat myself here.
The Land I Lost by Cassandra Clare
This is the seventh of the Ghosts of the Shadow Market stories which are being released monthly in eBook format. I've been trying to resist buying them — waiting for the bind-up next year. But this one is about Alec, so yea I had to read it.
WARNING: If you have not read Lady Midnight and Lord of Shadows, in particular, the short story "The Long Conversation", this story will spoil a few things for you.
The Land I Lost was exactly what I needed when I read it. In it, we follow Alec Lightwood as he is sent to Buenos Aires to help open some doors for Jem and Tessa in their investigations. While there Alec uncovers corruption and mass murder and a new son for him and Magnus. We have Alec/Jace banter and Alec as a father and a partner and *sigh*. I love watching what Alec has become, from an angry insecure teenager to a leader who is comfortable in his own skin and confident in who he is. He is still my favourite character in the Shadowhunter world (in case you couldn't tell).
This year I set a GoodReads goal of 125 books and 38, 000 pages. As of writing this, I'm sitting at 102 books and 31,228 pages. Why did I have to up my goal from 100 books this year? It is totally still doable. I have a number of graphic novels/manga out from the library right now so that should get my titles up a bit.
There may be CatchUp-A-Thon Round #2 in my future.